in fact I'm on a quest to find the 'best ever recipe' for pretty much everything
Am I alone in the majority of my food googling starting with the infamous phrase 'best ever…… recipe'?
Whether is be savoury or sweet it seems I have stepped up my cooking and baking to now only take onboard the 'best ever' I just don't want to waste my time on so-so average recipes anymore – time is precious, bellies need to be filled, lets make the stuff great
But whats 'best ever' for google, I have discovered, is most certainly NOT always 'best ever' for me in many cases, so I'm going to share this journey and see if between us we cant define a 'best ever' set of recipes that are tried and tested right here and in your homes, with honest criticism, and better still full bellies
As well as google I'm also entranced by P'Interest and the visual appeal of the finished product and I'm finding it a superb source of recipes at the moment, if you want to follow me you can click here, or if you just want to follow my food board then its right here too and here is my new 'Best Ever' board. I will be sharing where I found these recipes and crediting them too
I'm no expert, lets make this clear, but I'm an eager enthusiast, and now I'm armed with my new man Ken, I'm ready to kick some serious cooking and baking ass
So I'm going to kick this off with a tried and tested 'Best Ever' and its from the Guardian which happens to be a pretty reliable source of 'best ever's' I must confess – I can spend hours trailing through their food pages on the web and I highly recommend it. So here is MY Best Ever Chocolate Brownie Recipe – courtesy of the Guardian
Best Ever Chocolate Brownie Recipe – courtesy of the Guardian
250g 70% cocoa chocolate
250g unsalted butter
300g golden caster sugar
3 large eggs, plus 1 extra egg yolk, lightly beaten
60g plain flour
½ tsp baking powder
Pinch of salt
60g good quality cocoa powder
100g walnuts (optional)
1. Pre-heat the oven to 180C, and line a 23cm x 23cm baking tin with baking parchment.
2. Set a bowl over, but not touching, a pan of simmering water, and add 200g of the chocolate, broken into pieces. Allow to melt, stirring occasionally, and then remove from the heat immediately.
3. Meanwhile, beat the butter and sugar together until light and fluffy, and break the rest of the chocolate into chips.
4. With the mixer still running, gradually add the eggs, beating well between each addition to ensure it's thoroughly incorporated before pouring in any more. Leave mixing on a high speed for five minutes until the batter has a silky sheen, and has increased in volume.
5. Remove the bowl from the mixer, and gently fold in the melted chocolate and chocolate chips with a metal spoon, followed by the sifted flour, baking powder, salt, cocoa powder and walnuts.
6. Spoon the mixture into the tin, and bake for 30 minutes. Test with a skewer; it should come out sticky, but not coated with raw mixture. If it does, put it back into the oven for another 3 minutes, then test again. Prepare a roasting tin of iced water.
7. When the brownies are ready, remove the tin from the oven and place in the cold water bath. Leave to cool for an hour before cutting into squares. Store in an air-tight container; they're even better the next day.
This is the image of what they should look like according to the Guardian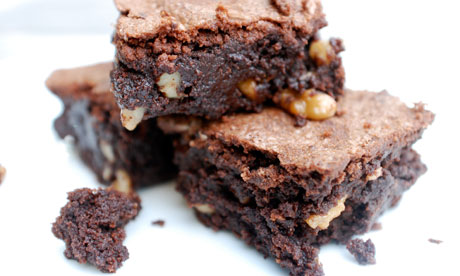 Pin It
and this is how mine look, not bad eh? I can tell you they are dense and fudgy, a slight crunch on the top
and then yielding chocolate stickiness which is JUST what I want from a brownie
I would dearly LOVE to see your 'BEST EVER' recipes, please add me a link to send me your way, I cant wait to see what you come up with – so what is your favourite Best Ever Chocolate Brownie Recipe? or did you try this one?
If enough people are interested I can do it as a blog hop next week

If you like that you might LOVE this..